Aa
National Alzheimer's Poetry Project introduced at area nursing home to enrich the lives of patients - As seen in the Leader-Telegram
Posted 7/11/2018
As seen in the Leader-Telegram: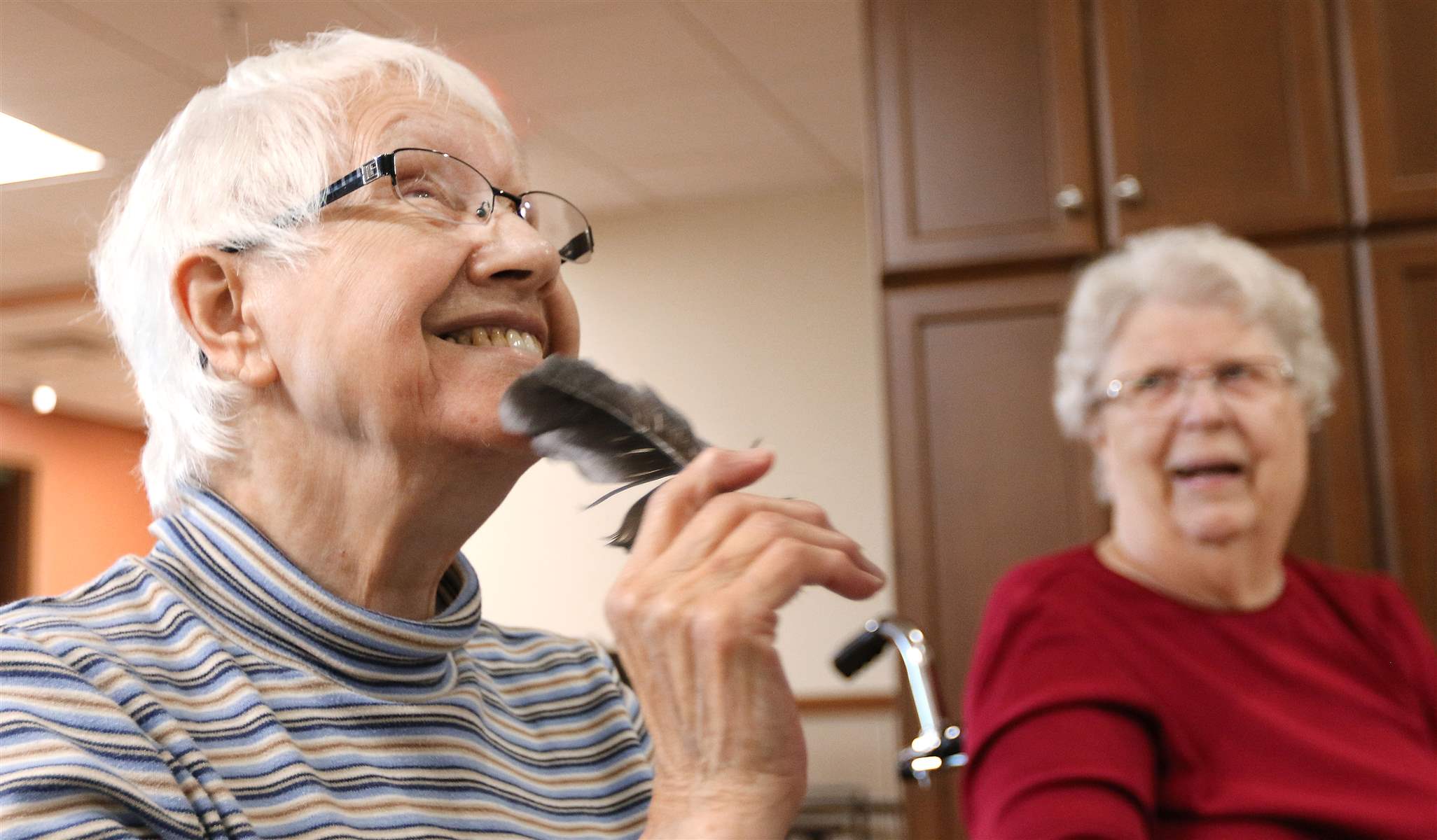 Hope is a thing with feathers.
And there's plenty of hope flying around at Grace Lutheran Communities' River Pines for long-term care, now that the national Alzheimer's Poetry Project has been introduced.
On Tuesday morning, 16 residents gathered in a circle along with several staff members while the founder of the Alzheimer's Poetry Project, Gary Glazner, recited poems in a repeat-after-me format.
"This is a poetry party," Glazner said to the residents as the session began.
Starting with Edgar Allen Poe's "The Raven," Glazner recited numerous bird-themed poems throughout the morning, encouraging participation by the staff and residents to make the time as interactive as possible.
From clapping out the rhythm of poems to introducing song into the mix, the morning was filled with more than words on a page.
As they got more involved, some of the elderly residents began to smile, mimic Glazner's actions and answer his questions. And this was only the second day of a three-month training program that will equip the facility's staff with new ways to interact with residents beyond regular poetry sessions.
"They learn different methods and techniques of the Alzheimer's Poetry Project," Glazner said. "They learn to use those to create poetry sessions but also to use them in other activities, like for bingo or for baking."
What the participants get out of the project, which is funded by the state Department of Health Services, is an improved quality of life, Glazner said. In order to assess this, he said the staff administers before and after surveys to see if residents have experienced an attitude shift through the program.
River Pines is one of 20 nursing homes in the state to receive this training, but Glazner, who is from Brooklyn, N.Y., said this program has so far been taught across 32 states and seven countries.
"It's a privilege to be able to be part of their lives and hopefully have some effect, make it a little bit funny and humorous," Glazner said of the nursing home residents he works with. "Ultimately, it helps us reframe the story of dementia because we see that they will learn and they will get better at this, and that's not the story we tell with dementia."
Karen Park, River Pines' activities director, said this program was introduced after the center was selected for a state grant.
Other activities the residents can be a part of include story time, trivia groups or discussion groups. But what's different about this group is that it uses more of the senses, which Park said helps residents to be more involved.
"Arts can always just enrich their lives," Park said. "It brings in different emotions and feelings, and gives them something else to look forward to in their day. It's just a feeling of joy and laughter — just an overall feeling of happiness and connecting with each other."
Park said she thinks the program is a great way to get residents to connect with one another, but she also recognized it as a different way for the staff to touch their lives.
One of the staff members present for Monday's poetry session was Ansley Hinz, who said she already enjoyed the program because it felt more personal. Instead of putting information in front of residents and expecting them to absorb it, she said it served as a way for them to instead consider their own reactions and emotions right off the bat.
"There's not a lot of stuff that you can do that helps (the residents) intellectually because they can't remember a lot for long periods of time, so hopefully this will keep their memories a little bit more active," Hinz said.
Hinz said the residents were kind of shy about the poetry program at first, but she said she's looking forward to seeing how they do when they're more familiar and comfortable with it.
At the end of the three-month training, the River Pines staff will put together and run a culminating event, likely another "poetry party."
---
View By Community
View By Category