Aa
Grace Lutheran Communities at The Age of Opportunity Job and Volunteer Fair, as seen on WEAU 13
Posted 9/12/2018

Our very own Bryan Bessa was on WEAU 13 News talking about The Age of Opportunity Job and Volunteer Fair. We are so happy to be a part of this opportunity on September 18th at the Oakwood Mall. Read the press release below and click to watch the full video on WEAU's site.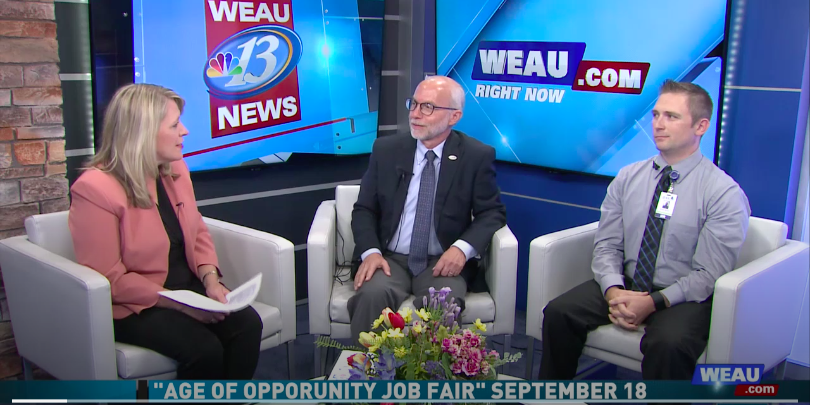 EAU CLAIRE, Wis. (WEAU)— The Age of Opportunity Job and Volunteer Fair is September 18 at Oakwood Mall.

News Release:

With older workers representing an increasing percentage of the population, many choosing to work or be active longer, and employers responding to a tight job market with a low unemployment rate, the Annual Age of Opportunity Job & Volunteer Fair represents a unique opportunity to bring these interests together.
More than 30 local employers and volunteer organizations will be present on Tuesday, September 18, to meet potential workers and volunteers at the annual Age of Opportunity Job & Volunteer Fair. The event runs from 9:00 a.m. to Noon at Oakwood Mall, in the Play Area Wing.

The Eau Claire Area Chamber of Commerce has partnered to present the fair with the Chippewa Falls and Menomonie Chambers, as well as the Aging & Disability Resource Center. Held during "National Employ Older Workers Week," the event is intended for mature workers (55 and over) looking for full or part time employment, project work, flexible hours, fun & social work atmospheres, and/or volunteer opportunities.
There is no charge to attend. The event was created to highlight older workers in the Chippewa Valley as a vibrant and energetic part of our community who have special skills and talents to share. Many seniors are interested in maintaining a link to the working world through part time employment or volunteer service. Free Resume and job search assistance will also be available, and assistance for veterans.


Major Sponsors are The Aging & Disability Resource Center of Eau Claire County, Grace Lutheran Communities, the Leader-Telegram, Manpower, Per Mar Security, Royal Credit Union and TTM Technologies. The full list of exhibitors includes Adecco Staffing, Aging & Disability Resource Center of Eau Claire County, American Red Cross, Aurora Community Services, Children's Museum of Eau Claire, Chippewa River Industries, City of Eau Claire - Parks, Recreation, & Forestry, Courtesy Corporation - McDonald's, Dove Healthcare, Downtown Eau Claire, Inc., Eau Claire Area School District, Edward Jones - Andy Cooper, Grace Lutheran Communities, Heartland Hospice, HSHS Sacred Heart & St Joseph's Hospitals, Hope Gospel Mission, Infinity Beverages Winery & Distillery, LE Phillips Career Development Center, Manpower, Marshfield Clinic, Mayo Clinic Health System - Volunteer Services, MEP Associates LLC, Oakleaf Surgical Hospital, Per Mar Security, The REACH Foundation, Inc., REALiving, Royal Credit Union, Seniors Helping Seniors - West Central WI, Student-Transit, TTM Technologies, UW-Eau Claire, Western Dairyland - RSVP Volunteer Program, Wisconsin Veterans Home At Chippewa Falls, and Workforce Resource – Senior Employment Program.


Read the full story and watch the interview at: https://www.weau.com/content/misc/4-PM-INTERVIEW-Age-of-Opportunity-Job-and-Volunteer-Fair-492866441.html



Grace Lutheran Communities has been helping our friends and neighbors in communities all over the Chippewa Valley since 1960. The non-profit organization specializes in rehabilitation, assisted living, skilled nursing, memory care, child care, independent living, and adult day services.




View By Community
View By Category