Aa
CEO's Talent, Caring Spirit Remembered as Seen in Leader-Telegram
Posted 11/30/2018

Thank you, Leader-Telegram for your kinds words written in the paper yesterday about our CEO, Mike Christensen who passed away recently.

As seen in the newspaper of the Leader-Telegram


Almost four years ago, before a job interview with Grace Lutheran Communities, a friend told Diane Rowe she should mention the importance of the mission of the nursing home/assisted living organization if she wanted to be hired for the position by organization Chief Executive Officer Michael Christensen.

"I was told to do that because the mission of Grace was so important to (Christensen)," Rowe said Wednesday. "That mission really drove him."

Others who knew and worked with Christensen also recalled his dedication to Grace employees and residents. He died Saturday at age 65 after being diagnosed last month with final stage esophageal cancer.

"He could have gone somewhere else and made way more money," Rowe said. "But he chose to stay at Grace ... He was so loyal to this place."

During his 20 years at Grace, Christensen led the organization through multiple expansion projects. They included the relocation in 2016 from Eau Claire to Altoona, home to River Pines and Prairie Pointe, the organization's long-term care and short-term rehabilitation sites.

Grace Lutheran Foundation Board President Mitch Piper credited Christensen's financial acumen with allowing the organization to grow amid challenging times. In more recent years, Piper said, Christensen grew Grace's senior care footprint at multiple sites in northwestern Wisconsin.

"He was an innovator and was creative about opportunities that fell within our capabilities," Piper said.

Before working at Grace, Christensen, a Chippewa Falls native, spent two decades working in senior care around the state and was an active member of a state nonprofit health care association and the UW-Eau Claire Communication Advisory Board.

Christensen possessed a determined, can-do spirit, those who knew him said.

"He had high expectations and he expected us to work at a high level," Rowe said. "The thing was, he was right there working with you and then some. He had this incredible work ethic."

Christensen also had a quirky, humorous side that helped create an enjoyable work atmosphere, they said.

"He could be all business, then crack a joke and lighten the mood for everybody," Rowe said. "He had a real good balance between hard work and having fun."
Strong legacy
Bryan Bessa has worked as Grace human resources director for the past five years and said he owes his position to Christensen, who told him he should apply for the job even though Bessa didn't believe he was qualified.
"He saw something in me I didn't see in myself," Bessa said of Christensen. "That was one of his strengths, getting us to believe in ourselves when sometimes we didn't."
Perhaps Christensen's greatest legacy, Piper said, is the strong team of Grace employees he was able to put together. "These are exciting young people that will really add to our organization," Piper said.
Bessa and others said they appreciated Christensen's commitment to family matters taking priority. Christensen directed Grace employees to leave work to be with family when necessary, they said.
"He cared about us each personally," Rowe said. "That is why we were willing to work hard for him, because we knew he cared about us."
'Missing him'
When Christensen's co-workers learned of his dire diagnosis, they took steps to be supportive. Many placed stickers on their computer screens affixed with the words "Mike will beat this." They wrote a series of words to describe him, a large list that was compiled into an art project in which those descriptors spelled out his name.
When he discussed his illness with his work colleagues, Christensen used humor to defray their sorrow. He joked this his clothes were too big, an effort to make the best of his rapidly losing weight.
Rowe said she and others will miss Christensen's humor, his inspiration, his personal manner. She will miss her morning meetings with him, meetings at which they mapped out the day ahead.
"We're missing him so much right now," she said. "But we're grateful for our time with him."
A visitation for Christensen is from 4 to 8 p.m. today at Pederson-Volker Funeral Chapel, 44 E. Columbia St., Chippewa Falls. His funeral is scheduled for 11 a.m. Friday at Grace Lutheran Communities-River Pines, 206 N. Willson Drive, Altoona, with visitation one hour before the service.
Read the full story here:
https://

www.leadertelegram.com/

christensen-remembered-for-

expertise-caring-spirit/

article_243ccf9f-6874-51a8-

b518-5473055b088f.html


Grace Lutheran Communities has been helping our friends and neighbors in communities all over the Chippewa Valley since 1960. The non-profit organization specializes in rehabilitation, assisted living, skilled nursing, memory care, child care, independent living, and adult day services.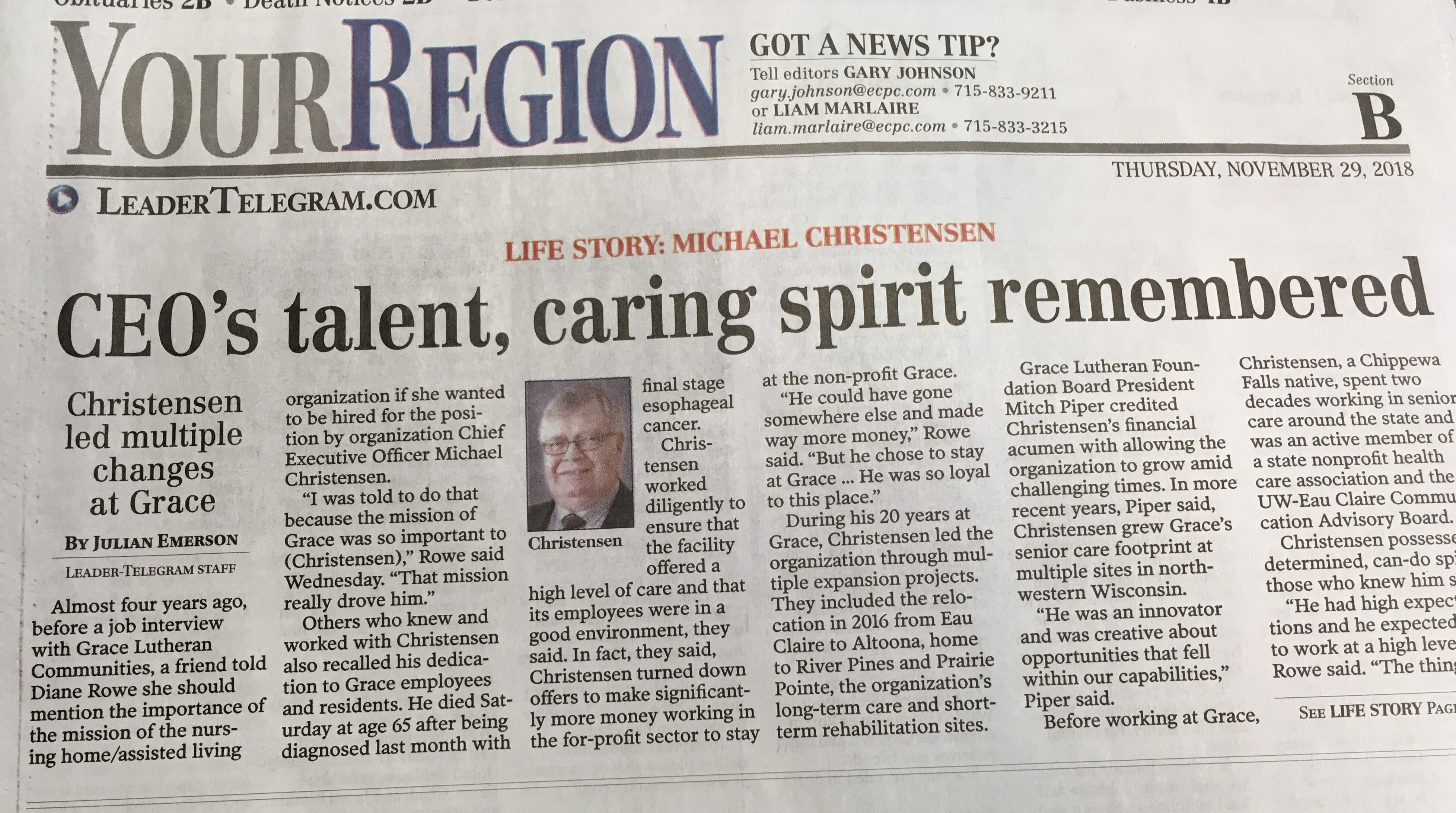 ---
View By Community
View By Category