Aa



Careers at Grace Lutheran Communities include job openings at our assisted living communities, apartments, adult day services, childcare, maintenance, housekeeping, and offices.

We also manage several other healthcare communities and hire for these locations:
American Lutheran Communities in Menomonie and Mondovi
Heritage of Elmwood Nursing Home in Elmwood
Finding the right job can be a job in itself. Since most of us spend approximately one-third of our lives working, choosing the right employer can be a major decision. It impacts our lives, both on the job and at home.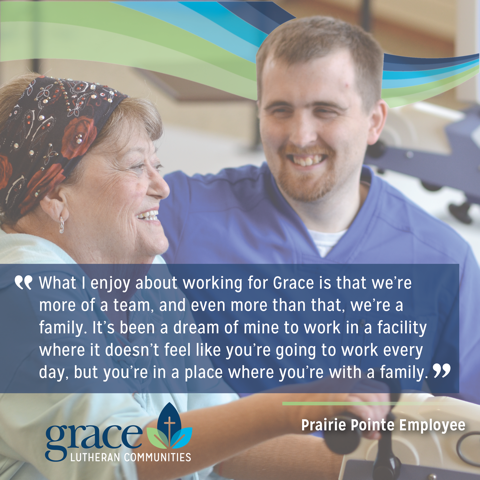 Why Work for Grace


Whether you are looking for your first entry-level position, or seeking to further your professional career development, Grace Lutheran Communities has much to offer as an employer.


Grace Lutheran Communities is only as good as the employees we hire, so we have high standards for our staff and ourselves.
We offer a competitive wage and benefit package.
We pride ourselves on a good working environment.
We provide incentives for employee participation and continuing education benefits.
We believe in having fun and recognizing staff members for a job well done through.
We offer an Employee Assistance Program for all employess. Y

ou and each member of your household will have access to 4 free sessions per year covering a wide variety of services through Prevea Health.
But the best recognition of all, we feel, is the quiet thanks received from residents, clients, their families and friends.