Aa
Proud Sponsors of:
Alzheimer's Association Memory Walk
Alzheimer's Association Support Group
Caring for the Caregiver
Chippewa Valley Family Caregiving Alliance's Town Hall Meeting
Marshfield Medical Center
Senior Americans Day
Active Members of:
Eau Claire Chamber of Commerce
Chippewa Falls Chamber of Commerce
Chippewa Valley Family Caregivers Alliance
Caring for the Caregiver Committee
LeadingAge Wisconsin
Wisconsin Childcare Administrator Association
Downtown Eau Claire, Inc.
Chippewa Valley Fundraising Professionals
Chippewa Valley Assisted Living Association
National Fire Protection Association
Wisconsin Healthcare Engineering Association
Senior Americans Day Steering Committee
Transition Action Council
National Adult Day Services Association
Chippewa Valley Continuum of Care
Our Team Serves:
The Arc – Eau Claire Board
Chippewa Valley Community Involvement Networking Group
Wisconsin Adult Day Services Association Board
Chippewa Falls Senior Center Board Member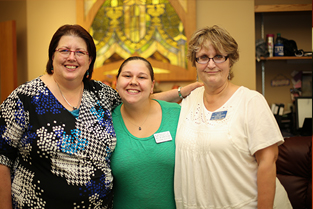 Senior Care Resources!
Get more information about senior care resources from on Grace Lutheran Communities blog.
Learn More


Grace Team Participates in Walk to End Alzheimer's
Walk to End Alzheimer's - Grace Lutheran Communities

We're proud of the Grace Lutheran Communities team! We had a great time at the Walk to End Alzheimer's and we're thankful to everyone who worked hard to meet our fundraising goal. The Grace Lutheran Communities team won the spirit award for having been part of this event for the past 17 years! #Walk2EndAlzA big thanks to the marching band from University of Wisconsin-Eau Claire for adding energy and spirit with the great music too!