Aa
Grace Adult Day Services, as seen on WQOW News 18
Posted 9/24/2018
This past week was National Adult Day Services Week. To commemorate this event, Grace's Adult Day Services in Altoona hosted a sing-along. Read the press release below and click to watch the full video on WQOW's site.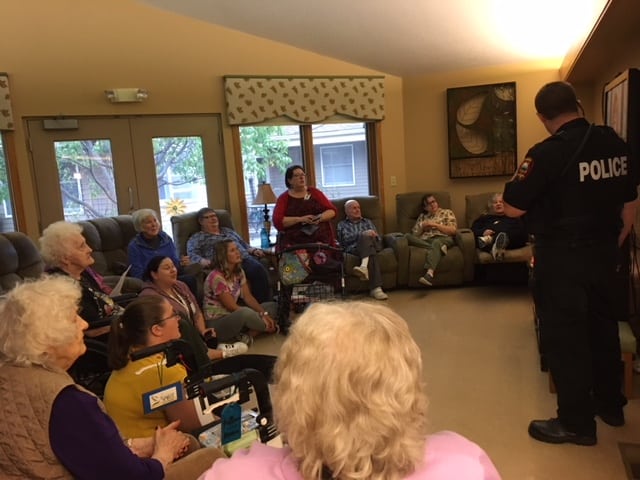 Altoona (WQOW) — Music filled the air at Grace Adult Care Services in Altoona Friday afternoon.

The event was the first sing-along the center hosted in partnership with the Altoona Police Department. The center's director, Bethany Jacobson-Flieger told News 18, usually, the only way they interact with officers is if there is a crisis-like situation, but a fun event helps bring residents closer.

"A chance to do something social, a chance to just involve a member of the community into our activities once in a while, I thought was just a great idea," Jacobson-Flieger said.

When the Altoona Police Department got the call to participate, Officer Timothy Peterson said he couldn't refuse.

"Altoona's a close-knit community, we like to, as a police department, get involved in the community, meet everybody, let them know we're here for them, and especially music helps, everybody likes music and it's a good way to connect," Peterson said.

Jacobson-Flieger also said nothing official is in the works right now for another community sing-along, but the center is definitely open to the idea.

Read the full story and watch the interview at: http://wqow.com/community/positively-chippewa-valley/2018/09/21/sing-along-brings-altoona-community-together/

Grace Lutheran Communities has been helping our friends and neighbors in communities all over the Chippewa Valley since 1960. The non-profit organization specializes in rehabilitation, assisted living, skilled nursing, memory care, child care, independent living, and adult day services.
View By Community
View By Category